Kreuzberg Mini Guide — Making-of
We started with the idea to make an app about the place where we work, which is the Bergmann-Kiez in Berlin-Kreuzberg—multicultural, full of history, different, magic.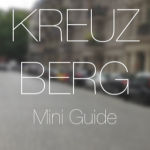 It was our aim to create an app that helps our friends, partners and visitors to get an overview of this popular district of Berlin. So the first step was to decide what tourists or people who just moved to Kreuzberg really need. Plus, what we really needed. As trainees in Berlin who don't live here, we needed some kind of guide that facilitates finding places and helps to save time. Our decision fell in favor of the topics Gastronomy, Culture and Shopping.
Tour and concept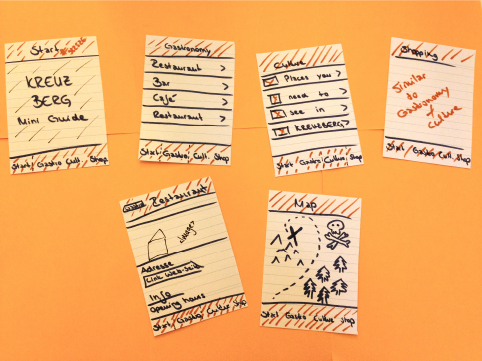 Our first scetch of the Kreuzberg Mini Guide
The next step was to fill these three categories with items for every taste. We looked for restaurants, shops and places on different ranking communities like qype or top10berlin. As we found several recommended places, we went there to get an own impression. We were exploring the district for two days — what an adventure! We took pictures, asked people we met about further recommendations, wrote short descriptions of the places we decided for. Through our trip we just had to include "Mustafas vegetable Kebab". When we walked by, we saw an unbelievable queue. We asked a girl in the front how long she was waiting for. As she replied "One and a half hour!" we knew that we didn't had any choice not to include this popular Kebab stand.
To realize our collected ideas we tried to create a structure for our little guiding app. So we started to design drafts of what our app should look like.
The concept was ready. Our vision was to transfer this concept into a real functional app. Never having created an app before, we had no idea how to convert our concept into something real. We started using Apmato to create our App.
Creation part 1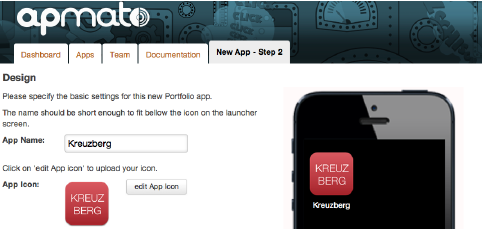 The first step is to choose a name and an icon for the app
In the first step we chose a name and an icon representing our new app. We named it Kreuzberg — short and clear. We created an icon using an illustration tool and uploaded it — we could instantly preview what it looks like on a real device!
After that, we could already begin to build our app in the editor! We started choosing a layout for the starting page of the Kreuzberg App. We planned to have a screen with a tab bar, a navigation bar and an image in between. So we decided for a layout with two bars and one content.
Creation part 2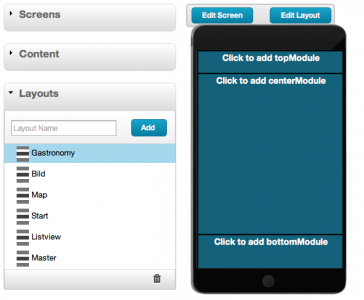 You can add as many modules as the chosen layout contains.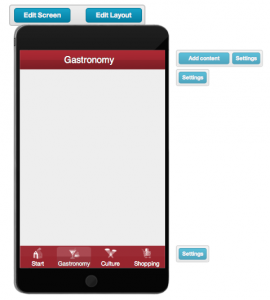 Following we added the functional modules to the layout. A layout consists of at least two modules. In our case we added three modules, two for the two bars and one for the content. When you add the modules you can easily change their settings. In our case we took a header bar as top module and a tab bar as bottom module and added the texts, colors and images.
Creation part 3
We wanted to create a list of different restaurants, bars and cafés, so we chose the list module in between the header bar and the tab bar. We did the same for the categories Culture and Shopping.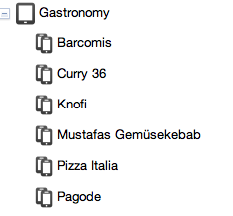 To fill the list with items we added subpages to the category screen.
To fill these subpages with information about the places, we created content pages. Those can be edited like the other pages. You can add them to the screens. The separation of the content pages makes them reusable and easy to edit.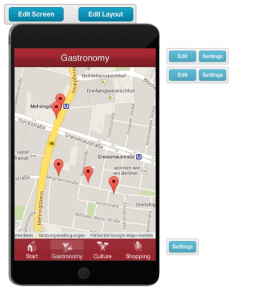 The Maps module is one of the greatest features of Apmato.
One of the greatest features is the Maps module. Instead of scrolling through lists, users of our app can instantly see which places are near to them. With a simple touch, they can get more detailed information about the specific places. The Maps module is a huge time saver — and we think it looks impressive!
You can assign geographic coordinates to each subpage. This makes it possible to add an interactive map to your app — either as a replacement for the list module, or as an additional way to quickly find places next to you.
Through Apmato's flexible image module we could add a lot of cool pictures we have taken of all of the places.
And that was already it. We achieved something that seemed impossible to us before. We created a fully functional app in just a few steps. And the best is — we can edit the app and update our content at any time! It was fun to create an app with Apmato.
Links and downloads
View screenshots and more information about Kreuzberg Mini Guide here. ⇢